This is another self-drive article for both Aussies and Kiwi customers that consider a 'see your own backyard' holiday in 2021 (or chuck out over the dutch for the kiwis reading this)
Queensland is my old home state, and its a stunning place to do some touring. Check out some inspirational ideas on great touring routes in the sunshine state.
Australia has a wide range of accommodation to suit all budgets and interests to assist planning a safe and enjoyable itinerary. Camper van motorhomes allow great flexibility whilst Tourist and Holiday Parks provide budget accommodations with great facilities to take advantage of from eco-lodges in the tropical top end, glamping on the New South Wales south coast or island luxury lodges in South Australia, some of Australia's most unique accommodation is located in stunning natural landscape, perfect for a self-drive adventure.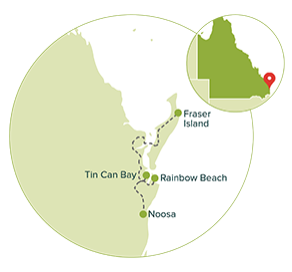 The Great Beach Drive
The great beach drive starts north of Brisbane and connects the sunshine coast with the world heritage listed Fraser Island. This region is home to an abundance of wildlife including kangaroos, whales, turtles, dingoes, dugongs/manatees, platypus and the worlds largest variety of bird species.
With the pacific ocean on one side and natural Australian bush land on the other, this drive passes some of the countries most stunning beaches.
Journey snapshot
Nearest major city Noosa
Duration five days
Distance 380 KM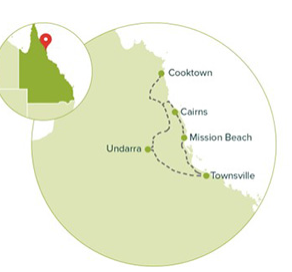 The Great Tropical Drive
The great tropical drive is a network of roads in the cans and great barrier reef region with palm fringed beaches, ancient rainforest and golden outback.
This drive combines some of Queensland best known attractions, including the great barrier reef, world heritage listed with tropics, Hinchinbrook Island, and the Undara lava tubes with gorgeous waterfalls, extensive Tea plantations, Australian wildlife experiences and indigenous culture.
Journey snapshot
Nearest major city Cairns
Duration 5 to 12 days
Distance up to 2000 km of road network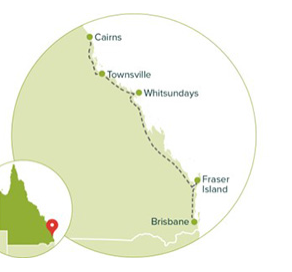 The Pacific Coast Way
The Pacific Coast Way links Gold Coast two cans with over 1700 km of endless beaches and coastal experiences. No two days at the same. This road trip leads through coastal havens, hinterland towns in major cities all along the East Coast of Queensland.
It's a long way, but the roads are good quality and the scenery is stunning. These experiences are unique and the locals are so friendly.
Journey snapshot
Nearest major cities Brisbane, Gold Coast, cans
Duration 6 to 10 days
Distance 1784 km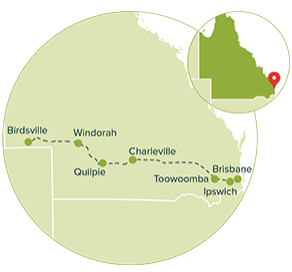 Outback Queensland-Warrego Way
Travel west and be filled with adventure. The Warrego Way starts in Brisbane and finishes in the iconic and remote town of Birdsvillein Queenslands outback. Along the way see ancient trees from the dinosaur age, encounter special Australian animals, unwind and soothing waters from the sub artesian basin, delight in yarns told in country bars, and enjoy the brilliant sunsets and starry nights.
Journey snapshot
Nearest major city Brisbane
Duration six days
Distance 1578 KM
---
Driving Tips
Much of Australias wildlife is nocturnal, so care needs to be taken on roads with twilight and late at night.
Most National Parks have and entry fee, with additional nightly fee is camping.
Flooded road should not be crossed as flood waters often have strong currents which can quickly move a car due to the cars tendency to float even temporarily (losing traction for the wheels and at that point its too late – ask me about my own experience with this)