I have some exclusive AUD pricing with my favourite group touring company (based in the USA), these special deals are short sale only. Get in touch for a quote with great value land touring, and I can package in your favourite airline too.
Go West Travel Special AUD pricing, book and pay deposit by 31 JAN 2022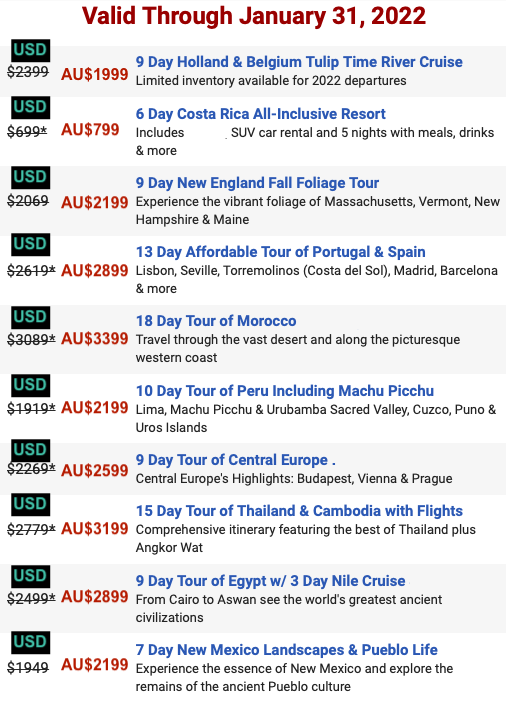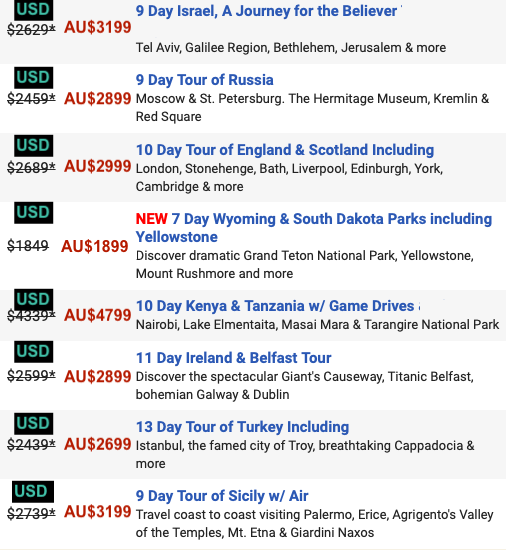 Ed @ Go West Travel has been working with this US based company since 2014. Before Covid hit they even had an Australian based office and a fabulous team. I have personally visited their Head Office in Fort Washington, Philadelphia. I have also done many of their trips, in Europe, Asia and South America. With a motto, 'More of the World, for less' and as it is a family run business the team runs a very tight ship for service and quality. When I met Danny in his office and heard about the history that led them to being a multi country, multi level and multi offering business I realised their driver is actually just an organic growth in customer experience that drives repeat business.
This means the company didn't set out to be big with a corporate goal, rather it set out to be be good at what they do. It is a winning formula and resulted in great tours, amazing guides and great prices. The catalog of tours is extensive after 40 years.
Booking with Ed @ Go West Travel leans into the great deals, some super discounts on offer, but most importantly a mature company that is a host, hosts that excel in great value touring of the entire world.
As a USA company their product is all priced in USD, what I do is advertise prices in AUD, (and also NZD) for my customers, I hold the price in our currency as a guaranteed price. Many Aussies and Kiwis don't factor in banks credit card fees of 2.1-3.0 % on top of intl conversions, and for bank transfers there are fees too, so let me secure great value, in AUD, and for no extra have an Australian based agent in your court to help in this topsy turvey world of travel