Earlybird Deal- Book by August 23, 2022 and save .Pay a $400 deposit for and tour balance due 90 days before departure. Promotion is not valid on existing reservations or combinable with any other offer. Subject to availability. Lowest price reflects promotional savings. – Ask now about adding flights with your favourite Airline.
Ed @ Go West Travel has worked with this Tour operator for 7 years and the guides are amazing, tour inclusions are great on the wallet, and I price everything in AUD, and I take care of the Conversions and payments to the USA. Saving you bank fees, and credit card fees too. Book with an Australian agent to get the best service and also the best deals.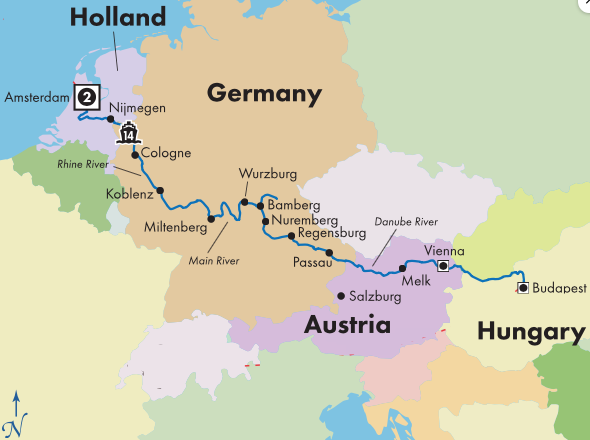 Escorted Package Includes
16 nights Deluxe accommodations2 nights Amsterdam
14 nights outside cabin aboard the Deluxe Monarch Empress, the First Class Monarch Princess, the First Class Monarch Duchess or the First Class Monarch Countess
River port charges of $380 per person
Cruise & hotel porterage
43 meals: 16 breakfasts, 13 lunches, 14 dinners
Cruise director & activities host throughout cruise
Local host in Amsterdam
Services of local guides in all major cities
Entrance fees per itinerary
Comfortable wireless earphones for enhanced touring during excursions
Special Features
In Amsterdam, board a glass-top boat and cruise the winding canals
Sail on the legendary Rhine to Cologne, capital of the Rhineland
View the mighty Lorelei Rock named for the siren "Lorelei" rising vertically from the waters
Walk in Bamberg's medieval center with its 11th century Romanesque cathedral
Cruise the Main-Danube Canal, considered a marvel of modern engineering
Marvel at the beautiful churches and ancient stone bridges in Regensburg
In Melk, join a guided tour of the historic Benedictine Abbey
Tour romantic Vienna with its legendary opulence and elegance
See magnificent panoramic views of Budapest from atop Fisherman's Bastion
On Sale until 5 PM August 23, 2022
Dates and Prices [click to open]

2023 Dates & Prices
Single Supplement: $5400
Depart Date
Depart City
Ship
EarlyBird Book By
Book After
Book After
23 AUG
24 AUG
25 OCT
Apr-11
Amsterdam
Monarch Duchess
$6100*
$7100*
$8250*
May-02
Amsterdam
Monarch Countess
$6100*
$7100*
$8250*
May-18
Amsterdam
Monarch Empress
$6500*
$7500*
$8700*
May-20
Budapest
Monarch Princess
$6100*
$7100*
$8250*
Jun-03
Budapest
Monarch Empress
$6100*
$7100*
$8250*
Oct-12
Amsterdam
Monarch Empress
$6600*
$7600*
$8750*
Oct-14
Budapest
Monarch Princess
$6350*
$7350*
$8550*
Oct-19
Budapest
Monarch Countess
$6450*
$7450*
$8600*

Prices for twin share booking in a Outside Cabin with French Balcony CAT-C – [E.g. Sapphire Deck on the Monarch Princess]. This is not the cheapest cabin, ask for availability for for CAT-D and CAT-E (no balcony).
Daily Itinerary [click to open]

DAY 1, Thursday – Start in Amsterdam
Welcome to Amsterdam, Holland's sophisticated and modern capital; transfer to your hotel. The remainder of the day is free to discover the many cultural sites this delightful city has to offer. Tonight, enjoy a Welcome Drink and orientation meeting with your local host at the hotel at approximately 6 PM, about the journey. We recommend that you select flights which arrive in your destination no later than 4 PM on Day 2 or earlier, if possible 
Overnight: Amsterdam

Ed Knows Amsterdam

DAY 2, Saturday – Amsterdam City Tour
Today's panoramic tour of 700-year-old Amsterdam introduces you to both the old and the new sections of this city. View the Royal Palace on Amsterdam's Dam Square, the Queen's official home-away-from-home. On to the Dutch National Monument dedicated by Queen Juliana as a memorial to the victims of WWII and to the unusual Skinny Bridge, once so narrow that pedestrians could not pass each other. Then, board a glass-top boat and cruise the winding canals for an up-close view of the stately historic homes, 16th-century warehouses and charming churches with striking bell towers. The rest of the day is on your own. Perhaps, visit the world-renowned Van Gogh Museum and explore the largest collection of Vincent van Gogh works in the world 
Overnight: Amsterdam 
Meals: Breakfast

Ed @ Go West Travel is a Europe Travel Expert

DAY 3, Sunday – Cruise Embarkation in Amsterdam
Time for personal exploration or shopping in Amsterdam this morning before the afternoon transfer to the port for embarkation. After arrival formalities, rest and relax on board. This evening, meet your Cruise Director and enjoy a gala Welcome Dinner as it sets the mood for your delightful river cruise 
Overnight: River Cruise 
Meals: Breakfast, Dinner

DAY 4, Monday – Leisure Morning in Amsterdam, Afternoon Cruising
Morning at leisure on board or pick up some last minute Dutch souvenirs. This afternoon get acquainted with your fellow passengers as you cruise south for Germany 
Overnight: River Cruise 
Meals: Breakfast, Lunch, Dinner

DAY 5, Tuesday – Cologne City Tour
Today join a walking tour of Cologne, highlighted by the soaring twin-steeple Gothic cathedral that is the geographical and spiritual heart of the city. Known for its vibrant art scene, Cologne abounds with cafes, galleries, shops and taverns. After dinner on board, time to explore Cologne's vibrant nightlife before setting sail 
Overnight: River Cruise 
Meals: Breakfast, Lunch, Dinner

DAY 6, Wednesday – Morning in Koblenz & Afternoon Cruising
The ship docks this morning in Koblenz, located at the confluence of the Rhine and Moselle Rivers. Join an orientation walk this morning and free time to explore the Romanesque architecture and imposing defensive towers of this 2000-year old city. Or, join the optional tour to the dramatic Marksburg Castle, the only hill castle on the Rhine that's never been destroyed and has been continuously occupied for over 700 years. During lunch, set sail and enjoy a relaxing afternoon on board, taking in the spectacular vistas as the ship sails past castles perched on lofty cliffs, terraced vineyards and tiny villages. Pass the mighty Lorelei Rock on the eastern bank of the Rhine rising vertically from the waters, named for the siren "Lorelei" who bewitched sailors passing by 
Optional: Marksburg Castle Tour 
Overnight: River Cruise 
Meals: Breakfast, Lunch, Dinner

DAY 7, Thursday – Miltenberg Walking Tour
After a leisurely morning on board, arrive in the picturesque Bavarian village of Miltenberg, a jewel on the banks of the Main River. Discover the Market Square with its Renaissance-era fountain, the Merchant Hall with its stunning Gothic architecture and the unique 14th and 15th century half-timbered houses. Rejoin the ship just before dinner and set sail for Wurzburg 
Overnight: River Cruise 
Meals: Breakfast, Lunch, Dinner

DAY 8, Friday – Wurzburg City Tour
Discover Wurzburg, named the "Pearl of the Romantic Road," with its dramatic Marienberg fortress, 15th century bridge and lush vineyards. Your tour takes you to the ornate Bishops' Residenz Palace, a stunning example of Baroque architecture, home to the largest ceiling fresco ever painted, named a UNESCO World Heritage Site. This afternoon, explore the town on your own or relax on board 
Overnight: River Cruise 
Meals: Breakfast, Lunch, Dinner

DAY 9, Saturday – Bamberg City Tour
Today, dock in historic Bamberg, former residence of one of Germany's most powerful imperial dynasties and today a UNESCO World Heritage Site. Begin your walk in the medieval city center with its impressive 11th century Romanesque cathedral and gorgeous Rose Garden. After, view the very unusual City Hall built on a tiny island in the middle of the Regnitz River and Little Venice, an area of colorful fishermen's houses. This afternoon is free to explore Bamberg independently, before setting sail this evening while you dine on board 
Overnight: River Cruise 
Meals: Breakfast, Lunch, Dinner

DAY 10, Sunday – Nuremberg City Tour
Today explore Nuremberg, an energetic city with a visible history of almost one thousand years. The guided excursion visits the historic Palace of Justice where the War Crimes Tribunal met in 1946 and continues to the vibrant Market Square. After lunch on board the ship, the afternoon is free to further discover this wonderful city on your own. Stroll through the shops that fill the Old Town or walk along the fortified walls of Nuremberg Castle. In the late afternoon set sail for Regensburg 
Overnight: River Cruise 
Meals: Breakfast, Lunch, Dinner

DAY 11, Monday – Regensburg City Tour
This morning relax on board as the ship cruises the Danube River. Arrive to Regensburg in the early afternoon, one of Germany's largest and best preserved medieval cities, designated a UNESCO World Heritage Site. The guided walking tour highlights the city's stunning architecture as you view the Old Town Hall, Dom St. Peter and the Porta Praetoria, gateway to an ancient Roman fort built in 179 AD. Marvel at beautiful churches and one of the oldest stone bridges crossing the Danube. Return to the ship or spend the afternoon at leisure discovering the delights of Regensburg on your own. Tonight, after dinner, set sail for Passau 
Overnight: River Cruise 
Meals: Breakfast, Lunch, Dinner

DAY 12, Tuesday – Morning in Passau
Dock this morning in 2500-year-old Passau, known for its pastel patrician houses, cafes, cobblestone lanes and riverfront promenade. Passau is a Bavarian town with a mix of Roman, Italian Baroque and Gothic architecture. Explore Passau on a guided walking tour in the morning, or join the optional full day tour to picturesque Salzburg, birthplace of Mozart and setting for the Sound of Music. The walking tour will include some of Salzburg's most historic sites including the Mirabell Palace, the Abbey, Salzburg Cathedral, and St. Peter's Cemetery. After lunch at a local restaurant, there will be time to discover Salzburg on your own before returning to the ship. If you choose to remain onboard the ship, continue sailing during lunch and relax this afternoon. In the early evening, all passengers will rejoin the ship and continue sailing for Melk 
Optional: Full Day Tour of Salzburg(PM) 
Overnight: River Cruise 
Meals: Breakfast, Lunch, Dinner

DAY 13, Wednesday – Melk Abbey
Disembark in Melk this morning for a guided tour of the historic Benedictine Abbey, considered one of the finest examples of Baroque architecture in Europe. View the Abbot's chambers, the Kaiser's walk and the lavish library. Then, return to the ship and continue cruising through the scenic Wachau Valley. This Afternoon, arrive in the village of Durnstein, one of the prettiest towns on the Danube. Free time to stroll this quintessential village in the heart of the Wachau wine district. Walk along medieval cobblestone streets revealing 16th-century town houses and wine taverns 
Overnight: River Cruise 
Meals: Breakfast, Lunch, Dinner

DAY 14, Thursday – Vienna City Tour
Your morning tour of romantic Vienna introduces you to this Imperial city with its legendary opulence and elegance. Drive along the famed Ringstrasse, Vienna´s main boulevard, lined with magnificent palaces, parks and momuments, as well as the Opera House and the Austrian Parliament. You will walk through the lavish Hofburg Palace on the way to St. Stephans Cathedral. Enjoy the afternoon at leisure, or, join the optional tour to the magnificent Schonbrunn Palace, once summer residence of the Habsburgs. Visit the gorgeous apartments and stroll through the world-famous manicured gardens. Tonight, perhaps take the opportunity to attend an evening of Viennese culture in the "City of Music" at an optional concert performance of the classical masterpieces of Mozart and Strauss, two of Vienna's most famous citizens 
Optional: Schonbrunn Palace Tour (PM) 
Optional: Classical Viennese Concert (PM) 
Overnight: River Cruise 
Meals: Breakfast, Lunch, Dinner

Ed @ Go West Travel is a Europe Travel Expert

DAY 15, Friday – Bratislava City Tour
This morning, enjoy the tranquil scenery as you sail along the scenic Danube. At noon, arrive in Bratislava, capital of Slovakia, a mix of modern and Baroque architecture. This capital city is among the youngest in Europe, yet retains a rich history dating back more than 2000 years. Walk along the cobblestone lanes of the historic town center; view St. Martin's Cathedral, coronation site of the kings of Hungary, the 13th century Old Town Hall and the Franciscan church. Time to explore this colorful city on your own before returning to the ship for dinner as you sail for stunning Budapest 
Overnight: River Cruise 
Meals: Breakfast, Lunch, Dinner

DAY 16, Saturday – Budapest City Tour
During your morning tour of the city you will visit the Buda side with its castle district, as well as the Pest side with the Parliament, the City Park and the Heroes Square. Explore the city's wonderful shops and cafes this afternoon on your own. Tonight, enjoy a lavish Farewell Dinner on board 
Overnight: River Cruise 
Meals: Breakfast, Lunch, Dinner

Ed @ Go West Travel is a Europe Travel Expert

DAY 17, Sunday – End in Hungary
This morning, disembark. Disembarkation will end at 9:30 AM – Ask about staying on a few nights extra (or for the reverse itinerary starting in Budapest ask me about my favourite hotel, the Mgallery Nemzetti.
Meals: Breakfast
Hotels [click to open]

.
Optional Tours [click to open]

Ed @ Go West Travel has been working with this US based company since 2014. Before Covid hit they even had an Australian based office and a fabulous team. I have personally visited their Head Office in Fort Washington, Philadelphia. I have also done many of their trips, in Europe, Asia and South America. With a motto, 'More of the World, for less' and as it is a family run business the team runs a very tight ship for service and quality. When I met Danny in his office and heard about the history that led them to being a multi country, multi level and multi offering business I realised their driver is actually just an organic growth in customer experience that drives repeat business.
This means the company didn't set out to be big with a corporate goal, rather it set out to be be good at what they do. It is a winning formula and resulted in great tours, amazing guides and great prices. The catalog of tours is extensive after 40 years.
Booking with Ed @ Go West Travel leans into the great deals, some super discounts on offer, but most importantly a mature company that is a host, hosts that excel in great value touring of the entire world.
As a USA company their product is all priced in USD, what I do is advertise prices in AUD, (and also NZD) for my customers, I hold the price in our currency as a guaranteed price. Many Aussies and Kiwis don't factor in banks credit card fees of 2.1-3.0 % on top of intl conversions, and for bank transfers there are fees too, so let me secure great value, in AUD, and for no extra have an Australian based agent in your court to help in this topsy turvey world of travel
1 USD = 1.469538 AUD
1 AUD = 0.680486 USD
Currencies fluctuate every day. The rate shown is effective for transactions submitted to Visa on 16/AUG/2022, with a bank foreign transaction fee of 3.0.%
DLRVC850