Book by August 2, 2022 and save .Promotion is not valid on existing reservations or combinable with any other offer. Subject to availability. Lowest price reflects promotional savings.
Ed @ Go West Travel has worked with this Tour operator for 7 years and the guides are amazing, tour inclusions are great on the wallet, and I price everything in AUD, and I take care of the Conversions and payments to the USA. Saving you bank fees, and credit card fees too. Book with an Australian agent to get the best service and also the best deals.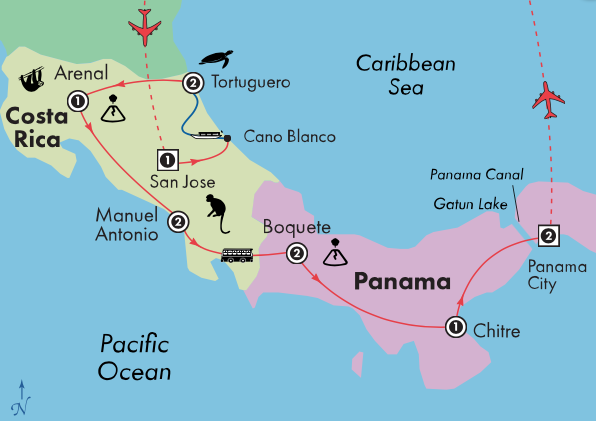 Escorted Package Includes
Small groups of maximum 22 travelers guaranteed
11 nights accommodations

1 night San Jose
2 nights Tortuguero
1 night Arenal
2 nights Manuel Antonio
2 nights Boquete
1 night Chitre
2 nights Panama City

Hotel taxes, fees & service charges
Hotel porterage
All transfers included only with airfare purchase on package arrival & departure dates†
26 meals: 11 breakfasts, 7 lunches, 8 dinners
Sightseeing per itinerary in modern air-conditioned vehicles
Services of an English-speaking tour manager throughout
Comprehensive, guided sightseeing and entrance fees per itinerary
Active itinerary with unique cultural features
Special Features
Thanks to our small group size, we can get to the heart of our destination, visit places that other tours miss, and get to know the locals.
Embark on a boat tour along the Tortuguero canals, through the heart of the Costa Rican jungle
Relax in the soothing waters of the renowned geothermal hot springs of Arenal
Experience Manuel Antonio National Park, filled with wildlife and beautiful scenery
Get a glimpse into the history of coffee, its production, and what makes the perfect brew during a tour of a coffee farm
Explore picturesque Boquete, known as "Valley of the Flowers", nestled in Chiriquí Highlands
An exhilarating jeep adventure to the summit of Baru Volcano, the tallest mountain in Panama
Tour a farm in Boquete and enjoy an authentic home-cooked Panamanian lunch
View Miraflores Locks, at the Pacific entrance to the Panama Canal
Discover Chagres National Park, in the eastern sector of the Panama Canal, home to the Embera village and people
On Sale until 5 PM August 2, 2022
Dates and Prices [click to open]

2022 Dates & Prices [Single Supplement: $1267]
Dates
TOUR Only
FLIGHTS & TOUR
Fri, Aug 12
$3649 
$POA*
Fri, Sep 16
$3599
$POA*
Fri, Oct 21
$3699 
$POA*
Fri, Nov 04  (Sold Out)
$4349
$POA*
Fri, Dec 02  (Sold Out)
$4399
$POA*
Fri, Dec 16
$4599 
$POA*
Fri, Dec 23
$3749 
$POA*

Prices per person based on booking as twin stare accommodation.
Daily Itinerary [click to open]

DAY 1, Friday – Start in Costa Rica
The tour starts in the capital city of San Jose, surrounded by lush green valleys and mountains. Transfer to your hotel available on request.
Overnight: San Jose 

DAY 2, Saturday – Travel to Tortuguero
Today, depart San Jose and travel east to the shores of the Caribbean Coast. View lush vegetation along with acres of banana plantations, one of Costa Rica's major exports. At a nearby port, board a motor launch that takes you to the canals in the heart of the Costa Rican jungle. Arrive at the lodge in Tortuguero in time for lunch. Afterward, drive to the village for a walking tour. Learn about the conservation efforts developed to protect sea turtles that come to nest here each year. Continue with a cacao tour, and get a glimpse into the process of harvesting, fermenting and drying of the cacao beans. Tonight, enjoy a night hike with a chance to observe a variety of wildlife and spot different species of frogs, followed by dinner at the lodge
Overnight: Tortuguero
Meals: Breakfast, Lunch, Dinner

DAY 3, Sunday – Explore Tortuguero
Awake this morning to the sounds of the jungle in one of the most remote areas of Costa Rica filled with abundant biodiversity. Acquaint yourself with the many tree and insect species of Costa Rica on an easy guided hike through trails in the nearby rainforest. After lunch, a boat takes you through remote unspoiled sections of the park's waterways on the winding canals where you're likely to view turtles, caimans, monkeys, and many colorful tropical birds thriving in the wild. Watch the sunset while sipping a cocktail on a floating platform by the canals, followed by a Caribbean dinner
Overnight: Tortuguero
Meals: Breakfast, Lunch, Dinner

DAY 4, Monday – Arenal Volcano National Park
Travel by motor launch and motor coach to Arenal, famous for its volcano. After lunch, hike along one of the trails in Arenal Volcano National Park. Learn about the flora and fauna of the area, while enjoying views of the volcano. This evening, relax in the renowned hot springs of Arenal. The family owned EcoTermales has four different pools ranging in temperature from 91 to 105 degrees Fahrenheit, surrounded by the endemic flora of the rainforest. These soothing hot springs are a great way to wind down after a long journey. Later, savor a traditional Costa Rican dinner
Overnight: Arenal
Meals: Breakfast, Lunch, Dinner

DAY 5, Tuesday – Travel to Manuel Antonio
Opportunity to go on a walk this morning for birdwatching in the lush gardens. Afterward, depart Arenal and travel through scenic mountains and along the Pacific Coast to Manuel Antonio, with its sandy beaches and tropical forest. On the way, embark on a crocodile boat tour that includes lunch. Opportunity to view crocodiles up-close in their natural habitat. Later, pass through the town of Jaco, a surfer's paradise, before continuing to Manuel Antonio
Overnight: Manuel Antonio
Meals: Breakfast, Lunch

DAY 6, Wednesday – Manuel Antonio National Park, Catamaran Boat Tour
Begin the day with a guided tour of Manuel Antonio National Park. Opportunity to discover the mangrove swamps, numerous species of mammals and birds, along with beach vegetation and lagoons. In the afternoon, embark on a catamaran cruise. Stop in a peaceful cove of the secluded Biesanz Beach for a light lunch on board along with snorkeling and swimming in the crystal-clear waters with sightings of colorful tropical fish. Celebrate the last night in Costa Rica at dinner
Overnight: Manuel Antonio
Meals: Breakfast, Dinner

DAY 7, Thursday – Border Crossing to Panama, Farm Visit
Leave your tropical surroundings of Manuel Antonio behind and travel south towards Panama. After border formalities, visit a farm to get a glimpse into the daily life of farmers. Conclude the tour with a home-cooked lunch of local specialties. Continue to Boquete, known as "Valley of the Flowers," nestled in Chiriquí Highlands. The town is surrounded by lush forests, mountains and coffee plantations. In the evening, join your fellow travelers for dinner
Overnight: Boquete
Meals: Breakfast, Lunch, Dinner

DAY 8, Friday – Baru Volcano, Coffee Tour
Rise early this morning for a unique experience! Depart on a jeep adventure to Baru Volcano. At an elevation of 11,400 feet, the volcano is the tallest mountain in Panama. Drive uphill through the challenging terrain to reach the summit. At the top, witness the sunrise and enjoy a picnic style breakfast. Admire the panoramas of both the Pacific Ocean and Caribbean Sea. Afterward, return to the hotel. After lunch, get a glimpse into the history of coffee, its production, and what makes the perfect brew during the tour of a coffee farm. Some of the best coffee is grown and processed in Boquete. Top off your visit with a delicious coffee tasting. Return to the hotel and spend the afternoon at leisure. Dinner tonight is at the hotel
Overnight: Boquete
Meals: Breakfast, Lunch, Dinner

DAY 9, Saturday – Discover Chitre
Today, depart Boquete and travel along the Pan-American Highway to Chitre. En route, stop to visit local markets. Browse through stalls filled with traditional Panamanian handicrafts including hats, clay pots, and baskets. Arrive in Chitre in the afternoon and embark on a tour of the city, including visits to artisan workshops. Witness a demonstration of how the traditional pollera dress is made. Then, watch local artisans, as they create masks from paper-mâché. These masks are a colorful part of Panama's folklore. Tonight, savor local specialties for dinner at the hotel
Overnight: Chitre
Meals: Breakfast, Dinner

DAY 10, Sunday – Miraflores Locks, Panama City
This morning, travel to Panama City, the capital of Panama and home to the Panama Canal. Along the way, stop at La Chorrera to taste bollo, an indigenous food of the Caribbean Coast of Panama. Continue to the town of Gamboa, where you board a boat and sail along Gatun Lake. Savor a light lunch on board, before visiting the Miraflores Locks, to observe how ships cross the locks. At the Miraflores Visitor Center, learn about the construction and history of the Panama Canal. Afterward, take a driving tour of Panama City before checking in to the hotel. Remainder of the evening is at leisure
Overnight: Panama City
Meals: Breakfast

DAY 11, Monday – Chagres National Park, Embera Village
Begin your Embera experience with a drive to Chagres National Park, in the eastern sector of the Panama Canal. Here, board a traditional piragua (paddle dugout canoe) that takes you on a journey to meet the indigenous Embera tribe, known as the "keepers of the rainforest". You'll be welcomed by the locals who are proud to share their culture and traditions. Watch women demonstrate their native art, as they craft baskets out of palm leaves. Explore the local flora and learn about the medicinal uses of each plant. After a specially prepared traditional lunch, return back to your hotel. In the evening, take a walking tour of Casco Antiguo, the old quarter of Panama City. Later, enjoy dinner with your fellow travelers and Tour Manager
Overnight: Panama City
Meals: Breakfast, Lunch, Dinner

DAY 12, Tuesday – Tour ends in Panama
Hotels [click to open]

Ed @ Go West Travel has been working with this US based company since 2014. Before Covid hit they even had an Australian based office and a fabulous team. I have personally visited their Head Office in Fort Washington, Philadelphia. I have also done many of their trips, in Europe, Asia and South America. With a motto, 'More of the World, for less' and as it is a family run business the team runs a very tight ship for service and quality. When I met Danny in his office and heard about the history that led them to being a multi country, multi level and multi offering business I realised their driver is actually just an organic growth in customer experience that drives repeat business.
This means the company didn't set out to be big with a corporate goal, rather it set out to be be good at what they do. It is a winning formula and resulted in great tours, amazing guides and great prices. The catalog of tours is extensive after 40 years.
Booking with Ed @ Go West Travel leans into the great deals, some super discounts on offer, but most importantly a mature company that is a host, hosts that excel in great value touring of the entire world.
As a USA company their product is all priced in USD, what I do is advertise prices in AUD, (and also NZD) for my customers, I hold the price in our currency as a guaranteed price. Many Aussies and Kiwis don't factor in banks credit card fees of 2.1-3.0 % on top of intl conversions, and for bank transfers there are fees too, so let me secure great value, in AUD, and for no extra have an Australian based agent in your court to help in this topsy turvey world of travel
1 USD = 1.490592 AUD
1 AUD = 0.670874 USD
Currencies fluctuate every day. The rate shown is effective for transactions submitted to Visa on 07/28/2022, with a bank foreign transaction fee of 3.0%
FSDCV20