when I was in Rome in 2013, I met Angelo, who took Sam and I on a wonderful tour of the Vatican city and St Peters Cathedral. Its a bit of a shift for many of us to think about the value of a more expensive private or small group tour when we are used to bargain hunting- but when in Rome, this is the team I always do an experience with. It helps that I have a bit of a crush on Angelo though, Rome is truly beautiful!
Angelo at the Holy Door, Vatican City
Over the years since, I have gotten to know Angelo, and met many of his amazing team.
During Italys first run in with Covid-19 I also watched as they all just knuckled down and got on with life. These people are natural hosts, passionate about their cities, and run an amazing set of tours, which they are steadily growing, (now covering Barcelona and Paris as well as many spots in Italy.
The Vespa Rome Small Group Tour, Thursdays and Sundays.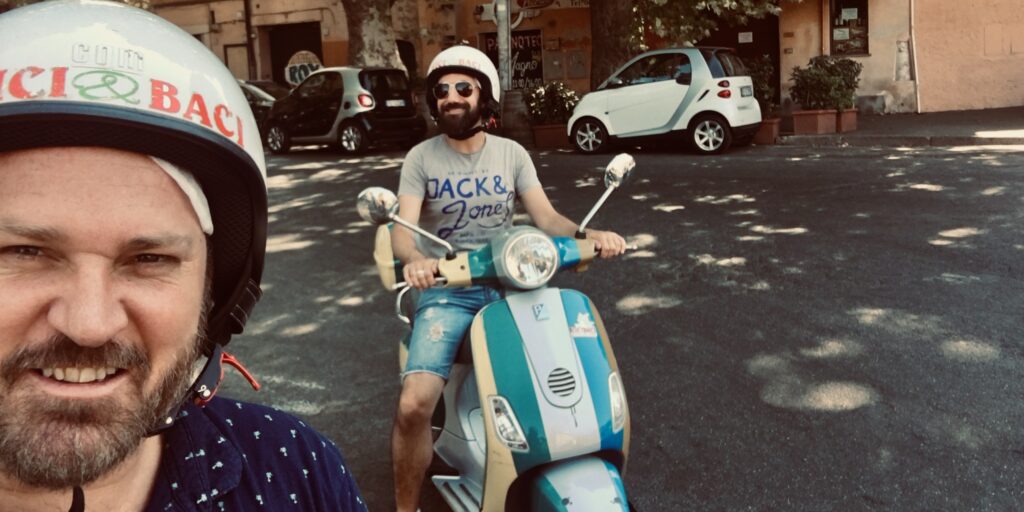 Book direct with Livitaly
price per person
min 2 people
Prebook with Go West Travel
10% off with all Go West Travel bookings
will be billed in AUD or NZD
min 2 people
But, if you book with me as a package I PROMISE I will provide some great benefits on top. I offer a 10% discount on all pre booked and prepaid tours booked with Livitaly.
Go West Travel offers exclusive benefits for package tours that include Livitly bookings with up to 20% discount if prebooked as part of a package visit to Rome (minimum two nights Hotel booked with Go West Travel).