This is another self-drive article for both Aussies and Kiwi customers that consider a 'see your own backyard' holiday in 2021 (or chuck out over the dutch for the kiwis reading this)
I have been checking out my home state a bit over the past 2 years, and have some ideas for customers to consider a self-drive tour. From stunning coastlines and majestic alpine villages to outback highways and lush rainforests, Australian National Parks provided spectacular settings for driving holidays.
Australia has a wide range of accommodation to suit all budgets and interests to assist planning a safe and enjoyable itinerary. Camper van motorhomes allow great flexibility whilst Tourist and Holiday Parks provide budget accommodations with great facilities to take advantage of from eco-lodges in the tropical top end, glamping on the New South Wales south coast or island luxury lodges in South Australia, some of Australia's most unique accommodation is located in stunning natural landscape, perfect for a self-drive adventure.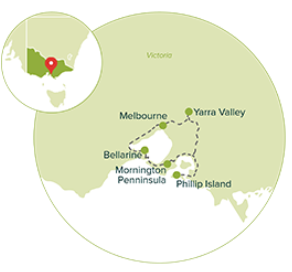 Go Beyond Melbourne
Travel from Melbourne to the Yarra Glen the Dandenong ranges, Phillip Island and onto the white beaches and wineries of the Mornington And Balerain peninsulas. Put together a 3 to 5 day journey winding through lush valleys and pristine coastal landscapes. Cruise a Cross a Port Phillip Bay on a sleek the killer fairy between Sorrento and queens Cliff. Sample fine wines and fresh local produce at cellar doors and farm gates, see native wildlife up close, and unwind and beautiful parks and gardens.
Journey snapshot
Nearest major city Melbourne
Duration 3 to 5 days
Distance 439KM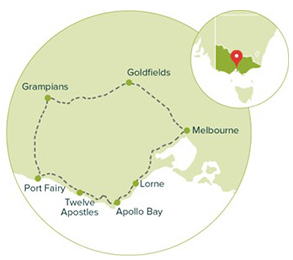 Great Southern Touring
Explore vineyards, drive along the spectacular great ocean Road, climb at Summit in the Grampians national park and travel back in time at sovereign Hill in Ballarat.
Plunge into Victoria's famous earth, learn about western victorious maritime history, fascinating aboriginal history and culture and soak up the riches of the spa countries mineral Springs in Daylesford. Keep the binoculars poise for koalas, kangaroos, and kidneys and whales along the way
Journey snapshot
Nearest major city Melbourne
Duration 3 to 5 days
Distance 842 KM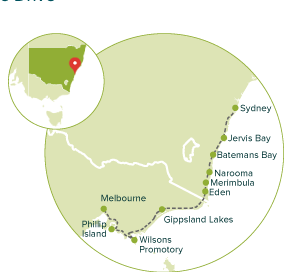 Sydney Melbourne Coastal Drive
Take an unforgettable journey along Australia stunning south east coast. From turquoise days in White Sands, to rugged cliffs we mighty waves crash. See kangaroos, penguins, wombats and whales in the wild. Enjoy water sports and fresh seafood in idyllic beach side towns, then journey in land to explore historic villages, fast forests and beautiful lakes.
Allow at least five nights on this journey and stop and enjoy the laid-back Australian beach lifestyle.
Journey snapshot
Nearest major city Melbourne
Duration 6 to 8 days
Distance 1580 KM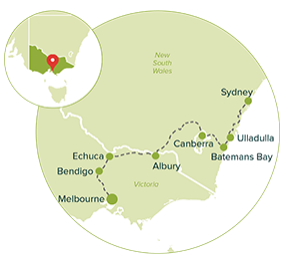 Sydney Melbourne Heritage Drive
Come face-to-face with the enduring legacy of Australia's Gold Rush era. Learn about the resilience of earlier settlers and discover the time of spirit of aboriginal people on this fascinating drive, taking in the mighty Murray River, fabulous wineries, lush national parks and Australia's capital city, Canberra
This journey is best experience with at least four nights to get a sense of the country and the people.
Journey snapshot
Nearest major city Melbourne
Duration 5 to 7 days
Distance 1183 km
---
Driving Tips
Much of Australias wildlife is nocturnal, so care needs to be taken on roads with twilight and late at night.
Most National Parks have and entry fee, with additional nightly fee is camping.
Flooded road should not be crossed as flood waters often have strong currents which can quickly move a car due to the cars tendency to float even temporarily (losing traction for the wheels and at that point its too late – ask me about my own experience with this)