Travel guide to Aotearoa-New Zealand Wine Regions

Auckland: Gateway to New Zealand
West Auckland is where New Zealand's wine industry began, thanks to the early Eastern European immigrants who brought grapevines with them. Auckland is the nation's wine headquarters, with four destinations within an hour's drive. Chardonnay specialist Kumeu River Wines is a 20-minute drive from the city, Waiheke Island is a 40-minute ferry ride from downtown and the towns of Matakana and Warkworth are an hour's drive North. And the Villa Maria Estate sits in the vast, vine-lined Ihumatao volcano – just five minutes from Auckland International Airport.
Travel Tip: Factor in extra time to visit wineries in West Auckland, Waiheke Island and further afield. The best way to get around is by car but avoid peak rush hours before 9am and after 4pm.
Gisborne: Experimentation Central
Gisborne is the first city in the world to see the sun each day and one of the best places to while away the time, Chardonnay in hand, during long sunny days. The fourth-largest wine region in the country, it is known casually as the Chardonnay capital. The local winemakers also make gewurztraminer, chenin blanc and a growing selection of on trend wines, such as albarino, marsanne and vermentino. Most wineries are small, owner-operated and welcome visitors.
Travel Tip: Flying is the most direct route to Gisborne – an hour from most North Island cities. Or take time on a picturesque and meandering drive – either South from Auckland along the Bay of Plenty coast (six hours) or North from Hawke's Bay (three hours).
Hawke's Bay: Historic and Diverse
Hawke's Bay has one of the longest, finest summers in New Zealand, thanks to its sun-drenched east coast position on the North Island. Mid-to-late autumn is ideal for visitors to enjoy the country's second-biggest wine region, with nearly 5000 hectares of grapevines. The Bay's best-known wine area is the Gimblett Gravels, 800 hectares of river stones producing syrah, malbec and merlot.
Travel Tip: Flying is the most direct route to Hawke's Bay, otherwise it's a leisurely four hours by road from Wellington. Production in the nation's most diverse wine region ranges from tiny and historic, such as Esk Valley, through to the opulent Craggy Range.
The Wairarapa: Wellington Wine Country
Small but perfectly formed, this productive region, just over the hill from Wellington, enjoys settled weather and a steady stream of vineyard events — marathons, country fairs and harvest events. The Wairarapa has only three per cent of New Zealand's grapes, but produces some notable and intense vintages.
Travel Tip: Hire a car in Wellington and drive over the Rimutaka Hill to the Wairarapa, which is made up of three smaller wine regions: Masterton, Gladstone and Martinborough. Hot spots include Poppies in Martinborough for lunch and tastings or, for some serious tasting, stay over at Peppers Parehua in Martinborough or one of the lovely boutique accommodations in nearby Greytown.
Marlborough: Sauvignon Blanc Central
Marlborough reigns in size, economic importance and production of New Zealand's biggest wine success story to date: Marlborough Sauvignon Blanc. Sauvignon blanc accounts for 85 percent of New Zealand's wine exports, the vast majority from Marlborough where there are 141 wineries and a 24,000 hectares of grapevines. Brancott Estate Heritage Centre is a must-visit for views, wine and food. Take a master class in sauvignon blanc or a gentle cycle on the vineyard tour.
Travel Tip: Fly into Marlborough from most major centres. Otherwise, take the Cook Strait ferry from Wellington to Picton, hire a car and drive to Blenheim (30 minutes). Stay at Hotel d'Urville or the beautiful Marlborough Lodge.
Nelson: North of the South
Nelson is the northernmost wine region in the South Island and is known for its seaside café culture and outdoor living. Nelson's historic wine strengths have tended to be whites with chardonnay, gewurztraminer, riesling and sauvignon blanc but some great pinot noirs are now adding another string to the region's wine bow. Cycle the Great Taste Food Trail to discover some of the best.
Travel Tip: Nelson is a two-hour drive from Marlborough or a 30-minute flight from Wellington. The World of Wearable Art Museum is a must-visit, as is the region's most respected and oldest winery, Neudorf Vineyards. Others include Seifried Estate and Waimea Estates (a good lunch spot).
North Canterbury: Emerging Excellence
Cool nights, hot summer days, a long dry autumn and strong winds are a big influence in this dramatic wine region, 40 minutes north of Christchurch. The region's most exciting wines are its intense rieslings (both bone-dry and sweet ones). It's home to rock star wine brands, such as Pegasus Bay (a leading riesling and pinot noir producer) and small, innovative vineyards such as Bellbird Spring and Greystone.
Travel Tip: Fly into Christchurch International Airport and drive to the wineries. Lunch at Pegasus Bay Winery or Black Estate.
Central Otago: The World's Southernmost Wine Region
Central Otago is especially spectacular to visit in autumn when the burnished colours bathe the mountains in blankets of beauty. Local winemakers are heavily reliant on pinot noir, with 80 percent of their vineyards devoted to this early-ripening grape. Riesling, pinot gris, pinot blanc, chenin blanc and chardonnay also offer exceptional quality. Gibbston Valley Wines and Carrick Estate at Bannockburn are top lunch spots, and Aurum Wines is a small, family-run affair with top-quality wines by French winemaker Lucie Lawrence.
Travel Tip: Fly into Queenstown and choose from several wine tour operators or hire a car to visit wineries. The four key areas are Gibbston (30 minutes' drive from Queenstown through Kawarau Gorge), Bannockburn, Alexandra and Wanaka (all about an hour's drive). Adventure tourism is big business here, and for historic charm, head to Arrowtown, 20 minutes' drive away.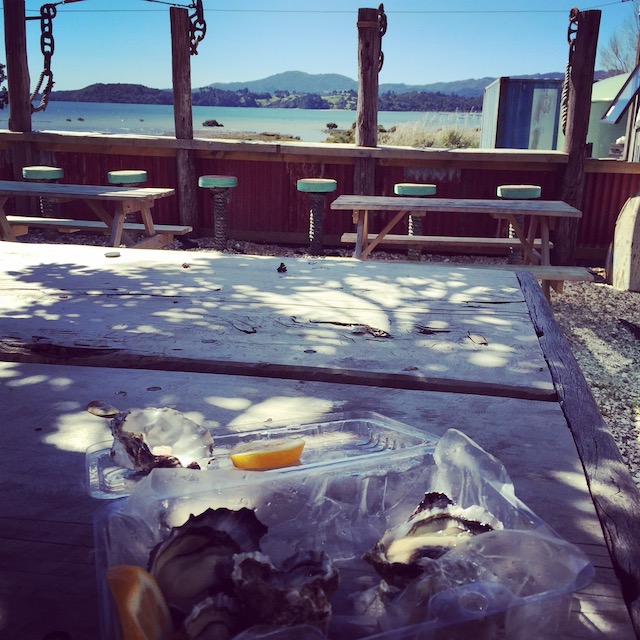 Ed from Go West Travel is a New Zealand Tourism Gold Expert. This means he is very knowledgeable about Aotearoa-New Zealand. Growing up in the central North Island in the fascinating geothermal areas of Rotorua, Waimangu and Waiotapu gives him inside knowledge for Aussie customers to get the little extra tips to make a great trip even more special. Ask about 'secret spots', Te Waihou Walkway and the Zealong Tea Estate for starters or the Coromandle Oyster Co.