Aotearoa-NZ flavours
One of the delights of travelling is connecting with a destination by enjoying local flavours.
Food can also evoke wonderful vacation memories – the wonderful ice-cream on a hot afternoon, fish and chips on the beach, the creamy blue cheese or chocolate brownie to die for at the farmers' market.
In Aotearoa New Zealand that also means making the most of seasonal whitebait fritters on the West Coast, luscious fresh scallops on the Coromandel, greenshell mussels straight from the salty Marlborough Sounds, or a simple cheese roll oozing with Southland's finest.  
Proximity to land and ocean ensures that New Zealand has some of the freshest, least-travelled produce in the world. You'll find some of the best bites in humble roadside establishments, the likes of Nin's Bin caravan serving crayfish near Kaikoura (named in Lonely Planet's Ultimate Eat list), the coffee trailer selling whitebait sammies (sandwiches) on the wild West Coast, or in tiny wayside shops like Featherston's C'est Cheese bursting its sides with the best of our dairy goodness.
Fancy Saturday or Sunday brunch? Seek out the local farmers' market and munch your way around the stalls. Three standout market experiences are in Hawke's Bay at the Showgrounds, Nelson's tasty Saturday morning market, and the Otago Farmers' Market at the Dunedin Railway Station.
Town or country, there's a local food hero to be found most everywhere. Tauranga and Rotorua have New Zealand's most awarded pie maker Patrick Lam, and Napier has Heavens, crowned Best Bakery nine years in a row. Queenstown has the celebrated Ferg's hamburgers, Blackball on the West Coast has salami and sausages, and Mangonui in Northland has its fish and chip shop right over the water.
Or, you can go directly to the source and catch your own lunch at picturesque Anatoki Salmon Farm in Golden Bay, then let the chefs smoke it or serve it as sashimi for your lunch, and sample king salmon straight from the glacial waters at Mt Cook Alpine Salmon in Tekapo – the world's highest salmon farm. For a seafood feast, cruise out to a greenshell mussel farm in the Marlborough Sounds and devour freshly steamed mussels served with a glass of sauvignon blanc.
Then there's the irresistible call of the lovely vineyards in the wine regions. There are some 450 experiences to be found on the winegrowers' website from cellar doors to tasting rooms, cafes and wine trails. Seek out the smaller, boutique operations where there's a chance of meeting the passionate winemaker, not to mention snapping up supplies not found in the local supermarket. The smaller, emerging wine regions, like Waipara in North Canterbury or the Waitaki Valley, are also producing some mighty fine drops. Craft beer lovers can whet their whistles at a growing multitude of microbreweries, each producing their unique hoppy delights. Nelson produces some of the world's finest hops and claims the title of craft brewing capital of New Zealand. Follow the beer trail from Founders Hop Garden all the way to Golden Bay's Mussel Inn, a simple country place with brewing on site.
---
Check out these links for more information;

Anatoki Salmon Farm Shop – Golden Bay, Nelson

Mangonui Fish Shop – Northland

Mt Cook Alpine Salmon – Aoraki Mt Cook National Park

Seafood Odyssea Cruise – Marlborough Sounds
---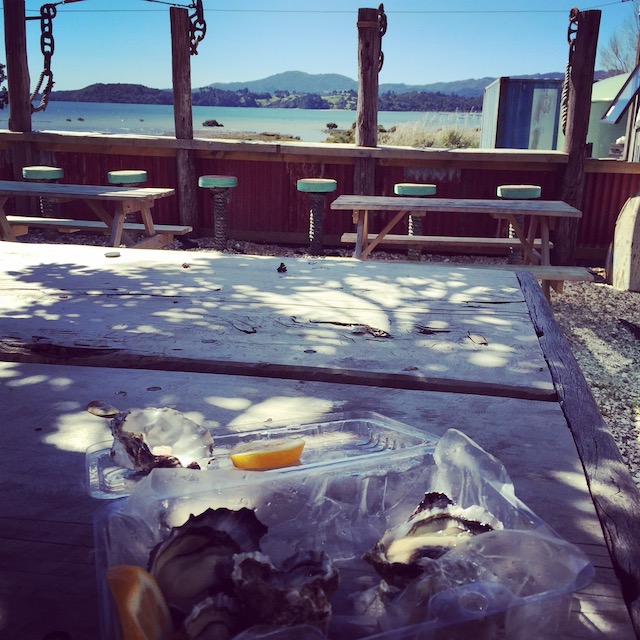 Ed from Go West Travel is a New Zealand Tourism Gold Expert. This means he is very knowledgeable about Aotearoa-New Zealand. Growing up in the central North Island in the fascinating geothermal areas of Rotorua, Waimangu and Waiotapu gives him inside knowledge for Aussie customers to get the little extra tips to make a great trip even more special. Ask about 'secret spots', Te Waihou Walkway and the Zealong Tea Estate for starters or the Coromandle Oyster Co.