Meet the Makers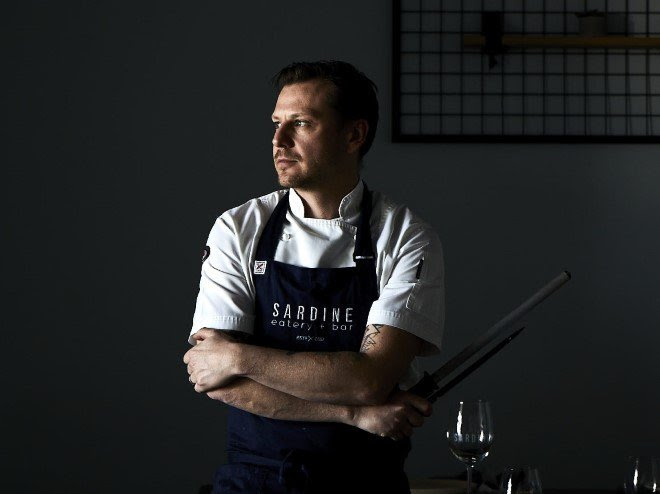 Made in East Gippsland
'We're right on the water and that plays a big part in our menu and what we do.'
Mark learned of Gippsland's amazing fresh produce working as a top chef in Melbourne.
Sustainable seafood, local lemons, farm fresh eggs, Raymond Island honey, black garlic and native coastal herbs now play a role in the ever-changing menu at Sardine.
'All these ingredients play such a big part in our restaurant. It's about celebrating the food that's here. We're so lucky with what we have on our doorstep.'
Nature inspires Mark's creativity.
'I've always liked to live near water and be outdoors. It plays a massive part in the way I think about menus and the style of dishes.'
'I truly believe food should be honest and ingredients should be celebrated,' Mark says. 'Showcase it. Make that the star.'
Classic dishes and new experiences inspire Mark's modern creations, and tell the story of a childhood lived across the seas, and the Gippsland region Mark now calls home.
Gippsland Food & Wine Trail
Discover more Gippsland makers at pubs, wineries, restaurants and food stores on the Gippsland Food and Wine Trail.
Check opening hours before you go
How it's made
Mark's day starts with a 5.00am call from Harry, a Lakes Entrance fisherman, letting him know what's just been freshly caught.
'You can't go back to sleep. You just want to get in the kitchen,' Mark says.
Mark collects the fish straight from the dock, and as he drives back to the restaurant, the magic starts to happen: the day's menu at Sardine starts to come together.
'That's when you get to think about how to use this amazing ingredient,' Mark says.
'It might be mackerel or Australian salmon. There's always something exciting. Your mind is just racing: how can you celebrate this? What can you do with the ingredients?'
Look out for dishes on the menu which hero fresh local black bream, octopus, and beautiful silver-blue sardines.
Plan your getaway
Book your table at Sardine Eatery + Bar online. Pre-order from the takeaway menu if you're in the area, or give a dining gift voucher to someone special.
Remember that some businesses are still getting back into the swing of things and you may need to call or book ahead.
Find more great reasons to visit the Gippsland Lakes at visitvictoria.com.

Some information to look at, Stay Close, Go Further
Expect perfect plates of local surf and turf, seasonal tempura veg, foraged native herbs, cheese and honey.
Boasting Australia's largest inland network of waterways, Lakes Entrance has long been a popular Gippsland holiday spot.
A favourite spot for lunch, showcasing Gippsland's local producers with delicious dishes in Bairnsdale.
This information was sent to ed@gowesttravel.com.au by Visit Victoria. No responsibility can be accepted for changes that may subsequently occur or for errors in information supplied after the information was sent to Ed @ Go West Travel

click the VISITVICTORIA logo to check out the Official Site for Victoria