#protip – I recently attended a show & tell put on by Tourism Australia. Normally the journey from shore to the reef is just a long boat ride (hours each way) but the brilliance of this tour is that this time will immerse you in the creation story of the Great Barrier Reef told by local aboriginal guides.
this is now on my #bucketlist
the Dreamtime Dive & Snorkel is a unique Great Barrier Reef cruise experience with the extra bonus of including the world's oldest living culture with some of Australia's most amazing marine life.
"Traditional Owners have passed down their dream time stories over tens of thousands of years and now we can bring them to you."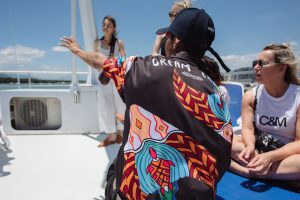 It's the only Great Barrier Reef cruise which allows you to interact with original clap sticks and fire poles and get live demonstrations of traditional dances and the didgeridoo to make the commuting time part of a fantastic journey to the reef
Book direct <– click there, or add to a package with Go West Travel, and I will build you a package deal….