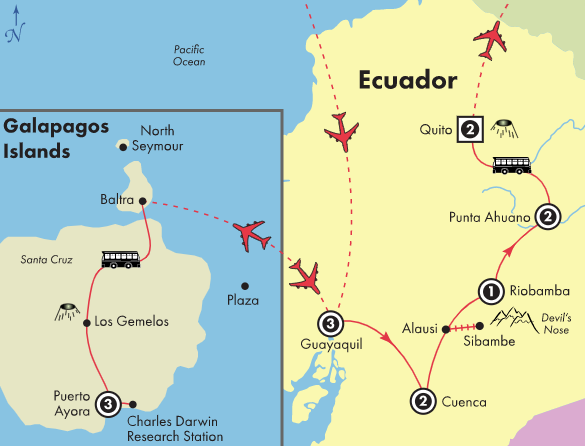 Depart SYDNEY 04 June 2020
Book By 12 December 2019
Deposit $2299pp
Final Payment 13 March 2020
Flying with

**Prices are based on 2 people booking together and sharing 1 room twin share. Airlines used for different departure dates may vary, a full confirmed flight itinerary will be provided at the quote stage.
Embark on a journey to the beginning of time in the Galapagos Archipelago of volcanic islands and tour the Charles Darwin Research Centre to learn about their preservation goals
Explore areas with blue-footed boobies, frigate birds and sea lions
Learn about the cultivation of orchids in the small town of Gualaceo
Discover the charm of Cuenca, a city located high in the Andean Mountains and ride the "Devil's Nose" train from Alausi to Sibambe
Spend two nights at an Amazon Lodge discovering the area's flora and fauna
End with a visit to Colonial Quito and walk through its cobblestone streets
Package Includes

Flights Sydney-Guayaquil, Quito-Sydney
Other departure cities available. Email or call for itinerary
Airline taxes & fuel surcharges
13 nights accommodations3 nights Guayaquil
3 nights Galapagos Islands
2 nights Cuenca
1 night Riobamba
2 nights Punta Ahuano (Amazon)
2 nights Quito
Hotel taxes, fees, & service charges
Hotel porterage
All transfers included only with airfare purchase on package arrival & departure dates†
30 meals: 13 breakfasts, 9 lunches, 8 dinners
Services of English-speaking local guides
Services of English-speaking naturalist guides in the Galapagos (Day 2-4)
Shore Excursions
Galapagos National Park Fee of $100
Galapagos Transit Control Card fee of $20
Sightseeing per itinerary in modern air-conditioned motor coach
Entrance fees per itinerary
Gratuities while on tour

Special Features

Explore the Hakone Open-Air Museum's vast array of sculptures
Discover Owakudani Valley's extraordinary volcanic zone
Embark on a cruise on Lake Ashi and admire the stunning scenery
Board the famous Shinkansen, or "bullet train" that whisks you to Kyoto
Other Dates

Prices are per person on a twin share basis. Different dates may use different hotels. Ask about pricing flying your favourite airline or alliance.
Daily Itinerary (Thursday Departure)

Your Galapagos itinerary may vary according to weather conditions, seasonal changes, safety issues and wildlife migration patterns.

DAY 1, Thursday – Depart for Ecuador
Depart for Ecuador. Arrive in Guayaquil and transfer to your hotel. Balance of the day is at leisure
Overnight: Guayaquil

DAY 2, Friday – Galapagos Islands, Baltra, Santa Cruz
Embark this morning on a journey to the Galapagos Archipelago of volcanic islands, five million years in the making. Your flight from Guayaquil takes you to Baltra Airport; you'll be met by your naturalist guides and transferred by boat to Santa Cruz Island. Here, you visit the Giant Tortoise Reserve and see their natural habitat – a once in a lifetime experience! Tortoises can be seen grazing on the vegetation, wallowing in muddy banks or in the small red ponds. The area is teeming with wildlife – woodpecker finches, mockingbirds, flycatchers, as well as ducks, herons, and gallinules. After a stop for lunch, on to Puerto Ayora, the most developed town in the Galapagos Islands, where you board the Finch Panga that takes you to Finch Bay, an eco-friendly resort-hotel in a private seaside location surrounded by mangroves, your home for the next three nights. The rest of the day is at leisure to enjoy the hotel's pool, natural spa, white coral beach or admire the view from the comfort of your hammock. Tonight, savor dinner highlighted by local delicacies
Overnight: Galapagos
Meals: Breakfast, Lunch, Dinner

DAY 3, Saturday – Excursion to Divine Bay, Charles Darwin Research Station
Today, head by boat to wildlife-rich Divine Bay, that lies a short distance away from Academy Bay and Puerto Ayora. Noddy terns, herons, marine iguanas, blue-footed boobies and Galapagos brown pelicans are commonly seen here. This morning's visit includes snorkeling on a calm section of the cove and swimming in Playa Punta Estrada. Afterward, a dry landing and a short walk will lead you to the south shore of the island, to a small beach called Playa de los Perros (Dog Beach). This is a great place to see intertidal organisms and learn more about the rich sea life of the Galapagos. Return to the Finch Bay hotel for lunch, followed by an afternoon visit to the Charles Darwin Research Station and the Fausto Llerena Giant Tortoise Breeding Centre. Gain insight into the huge efforts being made by scientists, guides, rangers and park managers to preserve this UNESCO World Heritage Site. Dinner tonight is at the hotel
Overnight: Galapagos
Meals: Breakfast, Lunch, Dinner

DAY 4, Sunday – North Seymour Island
You'll be transported on your yacht, The Sea Lion, to North Seymour Island, lifted from the ocean floor by a seismic event. Cliffs that are only a few feet high form the shoreline, where swallow-tailed gulls sit perched on ledges and a tiny forest of silver-grey Palo Santo trees stand just above the landing. This island is teeming with life! You might have to give right-of-way to a passing sea lion or a marine iguana. Along the way, perhaps you may see the famous Galapagos blue-footed booby nesting beside the trail or spot flocks of pelicans in a feeding frenzy. Keep on the lookout for the magnificent frigate bird, with its puffed- up scarlet throat sack, perched in low bushes watching over their chicks. After your enlightening walking excursion, you return to Finch Bay for leisure time. Enjoy dinner at the hotel
Overnight: Galapagos
Meals: Breakfast, Lunch, Dinner

DAY 5, Monday – Port of Baltra, Flight to Guayaquil
Depart the Finch Bay Hotel. On your way to Baltra, stop at the Twin Pit Craters to view the great depressions of volcanic material formed by a long process of the sinking ground, and the exceptional view of Scalesia trees, ferns, mosses, and orchids. Then, proceed to the airport for the flight to Guayaquil. Arrive late afternoon in Ecuador's sprawling and vivacious port city. Transfer to the hotel. Evening is at leisure in Guayaquil
Overnight: Guayaquil
Meals: Breakfast

DAY 6, Tuesday – Guayaquil City Tour
Begin your tour of Guayaquil at Seminario Park, famous for its many green iguanas living within the trees and ornate gardens. Then, view the contrasting architecture of the city's Neo-Gothic Cathedral, Moorish clock tower, La Rotonda Monument and climb up the 444 steps to Santa Ana hill in Las Peñas neighborhood to enjoy panoramic views of the city. The afternoon is yours to explore Malecón 2000, the city's gleaming new riverside development, which incorporates shops, restaurants, a landmark museum, and several of the city's most famous monuments. Tonight, join your Tour Manager for an orientation meeting on the wonderful tour that awaits you in Ecuador. Meet your fellow travelers and share a Welcome Dinner with delicious Ecuadorian food
Overnight: Guayaquil
Meals: Breakfast, Dinner

DAY 7, Wednesday – Chocolate Tasting & Cuenca
Travel today from Guayaquil to Cuenca, one of the country's most beautiful cities. En route, stop at a Cocoa (Cacao) Plantation for a tour and demonstration of the process that begins after the beans are picked from the cocoa trees. Ecuador is a major producer of cacao worldwide with chocolate as one of their thriving exports. Afterward, drive up to Tres Cruces in the Andean mountains and savor lunch at a lodge nestled between lakes and mountains. Continue with a drive along the country roads, passing indigenous people in their colorful clothes wearing the customary fedoras. Arrive in Cuenca, set 8,400 feet up in the majestic Andes. Enjoy the rest of the day in this enchanting city with its red tiled roofs, cobblestone streets and plazas adorned with flowers
Overnight: Cuenca
Meals: Breakfast, Lunch

DAY 8, Thursday – Orchid Nursery and Colonial Cuenca
Today in the small town of Gualaceo, attend a weaving and dying demonstration that will teach you about traditional textiles. Next, visit an Orchid nursery and meet with one of the orchid growers that produces and exports thousands of orchids annually. Learn about the cultivation process and see the vibrant array of orchids that are raised here. Return to Colonial Cuenca, where your tour of the city begins at the Plaza and Church of San Sebastian, built in the 17th century, with its magnificent carved door. Arrive at the stark white Church of El Carmen de la Asunción, founded in 1682, an important historical building lovingly preserved in its original condition, with its beautiful baroque façade. See the Cathedral of the Immaculate Conception on the Plaza Calderón, considered the most important religious monument in the city. View the contrast between the two cathedrals when you visit the Old Cathedral which served as the main place of worship for the Spaniards during the colonial period and contains original paintings and sculptures from that era. Then, walk along the winding cobblestone lanes to the main square with its stunning architecture accented by wrought-iron balconies, tiny quaint parks, and romantic plazas. The center of Cuenca was declared a UNESCO World Cultural Heritage Site. Spend the rest of the day at leisure admiring the panorama of the city or enjoy the international restaurants, art galleries, and outdoor cafés surrounded by the magnificent architecture
Overnight: Cuenca
Meals: Breakfast

DAY 9, Friday – Ride the "Devil's Nose" Train, Riobamba
An adventurous day! Drive from Cuenca to the small town of Alausi. Arrive at the train station to board the world-famous "Devil's Nose" train that takes you on a thrilling ride that zigzags up and down steep slopes, through scenic river valleys and along the wall of rock named Nariz del Diablo, the Devil's Nose. Sit back, and enjoy this extraordinary experience. Return back to Alausi and have lunch at a local restaurant. Afterwards, travel to Riobamba for dinner and overnight
Overnight: Riobamba
Meals: Breakfast, Lunch, Dinner

DAY 10, Saturday – Devil's Cauldron Waterfall, Amazon Lodge
This morning, visit the powerful Devil's Cauldron (El Pailon del Diablo)* one of Ecuador's most striking waterfalls, hidden in the Ecuadorian rainforest. After a box lunch, travel to Ahuano. Along the way, stop for a fascinating visit at a local Quechua community interpretation center to learn about life and survival in the Amazon. Enjoy the sounds, the serenity, and the magnificent foliage as you begin your exploration of the unique Amazon culture. After, you travel to La Punta Ahuano, a tiny port on the north bank of the Napo River, where you board a canoe that takes you to your Lodge** situated on the Napo River. You'll be able to spot many species of birds along the way. Tonight, join your fellow travelers for dinner at the lodge
*This is an active hike to and from El Pailon del Diablo waterfall
**Upon arrival the lodge is approximately a 5-10 minute walk uphill from where passengers will exit the canoe. Passengers are required to transport their own carry-on luggage
Overnight: Amazon
Meals: Breakfast, Lunch, Dinner

DAY 11, Sunday – Nature Trail Hike, Leisure Time at the Lodge
This morning, after a canoe ride you can hike in the Misicocha Private Nature Reserve for approximately two hours while viewing the beautiful flora and fauna up-close. The Amazon rainforest is the world's largest ecosystem, so be sure to keep an eye out for the innumerable species of tropical plants and insects. Enjoy the views as you cross suspended bridges and fly through the jungle on a short zip line basket ride. At the end of the hike, take a rafting trip on a traditional balsa log raft*. Balance of the day is at leisure or, choose to participate in one of the optional tours, including the Butterfly Farm & Balsa Wood Carving Demonstration, Cacao Farm & AmaZOOnico Rescue Center or Canopy Adventure Park
*This is an active hike and sections of the path include steps. Also, those who participate in the rafting trip will need to step through the water to reach the raft and will get wet during the ride
Optional: Butterfly Farm & Balsa Wood Demonstration
Optional: Cacao Farm & AmaZOOnico Rescue
Optional: Canopy Adventure Park
Overnight: Amazon
Meals: Breakfast, Lunch, Dinner

DAY 12, Monday – San Isidro Lodge, Hummingbird Park, Quito
Depart the Amazon this morning by canoe. Then, continue by motor coach to the picturesque San Isidro Lodge, a paradise for hummingbird lovers and photographers. Walk along the scenic trails, stopping to see over 14 different species of hummingbirds. After lunch, head towards Quito, the historic masterpiece in the high Andes, at the base of the Pichincha Volcano. Arrive at the hotel in this city aptly called "an urban jewel", with its priceless treasures of art and architecture. Tonight, get acquainted with the city's wide choice of world-class restaurants, cafes and shops
Overnight: Quito▲
Meals: Breakfast, Lunch

DAY 13, Tuesday – Quito City Tour, Middle of the World Monument
Discover Quito's colonial quarter, the largest and best preserved in Latin America, designated a UNESCO World Heritage Site. Begin at Independence Plaza, flanked by the Metropolitan Cathedral, the Presidential Palace, the Municipal Building and the Archbishop's Palace. Continue to the Metropolitan Cultural Center with its exhibits highlighting Ecuadorian culture and rich history. Visit the La Compania Church with its beautiful gilded interior, or, the Monastery of San Francisco, one of the great religious buildings of the New World with its impressive façade and atrium. Continue to the Middle of the World Monument at the Equator, which marks latitude 0 °. Here, you can stand with one foot in each hemisphere! After lunch at a local restaurant, return to Quito for leisure time. There is so much to see in this city with its lovely markets, shops, cafes and excellent local cuisine. Bid farewell to your Tour Manager and new-found friends on your last day in Ecuador at a Farewell Dinner
Overnight: Quito
Meals: Breakfast, Lunch, Dinner

DAY 14, Wednesday – Depart Ecuador
Transfer to the airport for your departure flight
Some flights depart shortly after midnight in the very early morning of Day 14 and will require a transfer on Day 13. Transfers depart the hotel approximately 4 hours prior to flight time
Meals: Breakfast

▲ Due to the high elevation, travel in the Ecuadorian Andes may cause some passengers to experience the temporary effects of altitude sickness. If you have any concerns about traveling to higher than your accustomed elevation, please consult your healthcare provider.
Accomodation

Unipark Hotel, Guayaquil

This first class hotel overlooks Parque Seminario, which is also known as Iguanas Park for the large population of iguanas that live there.

Finch Bay Hotel, Galapagos

This first class hotel is just steps from the beach, nestled in a very private location.

Hotel Oro Verde Cuenca, Cuenca

This first class hotel is about a ten minute ride away from Cuenca's historic downtown.

Hosteria La Andaluza, Riobamba

This first class hotel has lovely views of Chimborazo.

Casa del Suizo, Amazon

This tourist class lodge is located in the Ecuadorian Amazon in a lush tropical and tranquil setting on the banks of the Napo River.

Hilton Colon Quito, Quito

This deluxe hotel is located in the heart of Ecuador's capital with easy access to the financial district and the colonial sector of the city.



Optional Extras

Butterfly Farm & Balsa Wood Carving Demonstration

| | | |
| --- | --- | --- |
| Day #11 | 08 Jan 2020 – 06 Jan 2021 | AUD$19.00 |

Today, visit the nearby Butterfly Farm, just a 15 minute walk from the lodge. The farm houses and serves as the mating ground to many butterfly species found in the surrounding jungle, including the brilliant blue morpho butterfly. Observe how these beautiful creatures are fed, raised and undergo metamorphosis. Enter the "winged room" where you will be surrounded by hundreds of exquisite colored butterflies flying around. After, walk for another 15 minutes and visit an indigenous handicraft workshop, before returning to your lodge.

Approximate tour duration is 1.5 hours.

*Optionals "Cacao Farm and AmaZOOnico Rescue Center", "Butterfly Farm and Balsa Wood Demonstration", and "Canopy Adventure Park" operate at the same time and should not be booked together.

Canopy Adventure Park

| | | |
| --- | --- | --- |
| Day #11 | 08 Jan 2020 – 06 Jan 2021 | AUD$30.00 |

Take a 15 minute drive and then hike 30 minutes through the rainforest to get to the Canopy Adventure Park that is located near the Pangayacu River. The Canopy Adventure Park is a ropes course or "parcour". You'll find yourself whizzing under the foliage and over the jungle floor in no time with the help of experienced guides. There are two circuits, each with increasing level of difficulty.

It is recommended that you wear hiking boots for this activity as you will be walking some distance through the forest. For some, this activity may be considered very strenuous and people with difficulty breathing, heart or other medical conditions, should consider not choosing this optional tour. Minimum age is 8 years old and minimum height is 3′ 3″ (1 meter)

Approximate tour duration is 2 hours.

*Optionals "Cacao Farm and AmaZOOnico Rescue Center", "Butterfly Farm and Balsa Wood Demonstration", and "Canopy Adventure Park" operate at the same time and should not be booked together.

Cacao Farm & AmaZOOnico Rescue Center

| | | |
| --- | --- | --- |
| Day #11 | 01 Jun 2017 – 06 Jan 2021 | AUD$23.00 |

Take a 25 minute canoe ride on the Arajuno River to visit a cacao farm, where you watch the process of obtaining chocolate from the seeds of the cacao fruit. Try your hand at grinding the roasted cacao beans in order to obtain the paste from which chocolate is made. At the end of the demonstration, taste a delicious cacao spread on toast or, a cup of hot chocolate. After, get back on your canoe and ride downriver to visit the AmaZOOnico Animal Rescue Center. The AmaZOOnico serves to rescue and care for the Amazonian animals who were injured, mistreated and illegally-trafficked. Take a guided tour of the center and watch rare species of animals in their natural habitat.

Approximate tour duration is 3.5 hours.

*Optionals "Cacao Farm and AmaZOOnico Rescue Center", "Butterfly Farm and Balsa Wood Demonstration", and "Canopy Adventure Park" operate at the same time and should not be booked together.
Entry and Visa information – Ecuador

For most Australian and New Zealand passport holders you will not require a visa for travel to Ecuador, but you will need a USA Visa to Transit the United States.

Visa-free short stays and visitor visas

Australian passport holders can stay in Ecuador for up to 90 days without a visa.

If you want to stay longer, you'll need a visa. If you overstay without a visa, you may be fined and barred from future visits.

Visa and other entry and exit conditions can change at short notice. This includes currency, customs and quarantine rules. Contact an embassy or consulate of Ecuador for details.

Travel to the Galapagos Islands

You can visit the Galapagos Islands for tourism for up to 60 days.

For visits other than tourism, you must get a visa or special permission from the local authority. You must do this before you arrive in Ecuador.

Other requirements

Get your passport stamped on entry by land or sea. If it isn't stamped, you could face deportation or delays leaving Ecuador.

Children younger than 18 who travel alone or with 1 parent may need to present:

a letter of consent from non-travelling parents
a copy of their birth certificate

Both documents must be:

More information:

Yellow fever vaccination

You'll need a valid yellow fever vaccination certificate to enter Ecuador. Some airlines may want to see one when you leave.

Find out about returning to Australia after exposure to yellow fever.
DLEJP200A